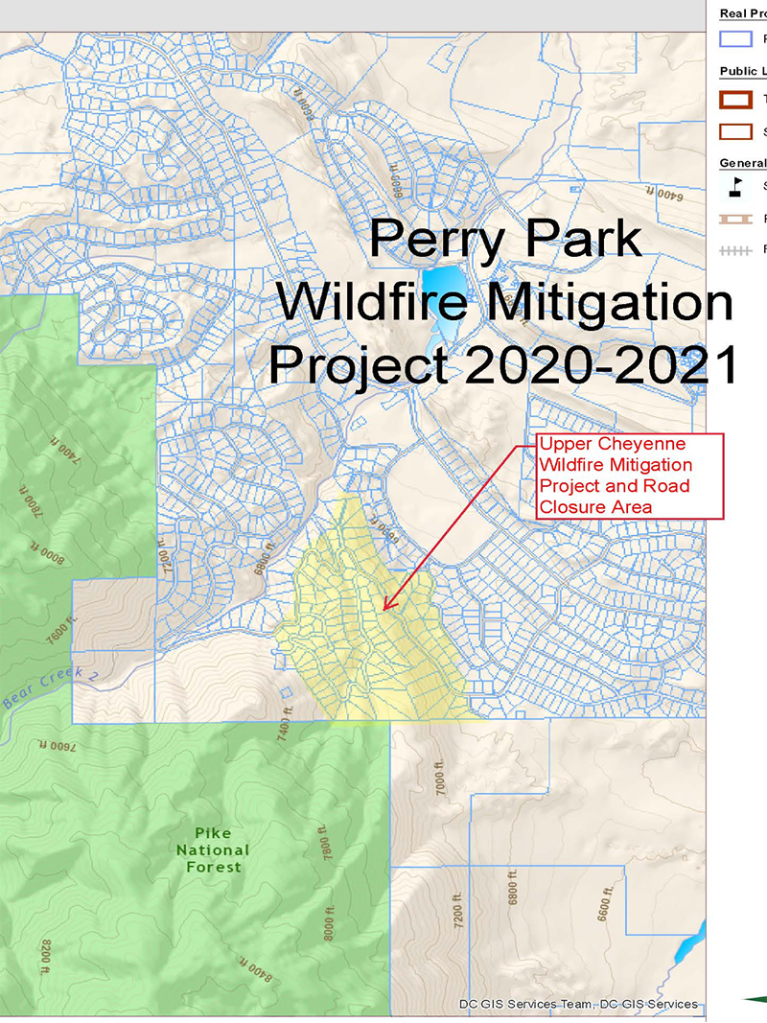 The Douglas-Fir Tussock Moth epidemic of 2015-2016 affected the trees in the area of Cheyenne Dr. West of the gate, described as "Upper Cheyenne".  This resulted in most of the Douglas-Fir trees being killed and created an extreme wildfire hazard.
The Perry Park Metropolitan District (PPMD), Colorado State Forest Service (CSFS) and Larkspur Fire Protection District (LFPD) have partnered to address both the hazardous fuels and falling trees in the affected areas of Perry Park.  PPMD has obtained SFA-WUI grant funding, administered by CSFS, to help offset costs of the project.  The grant requires matching funds that will be matched with PPMD funds so there will be no cost to the affected landowners. 
The project is anticipated to start on Monday – November 30,2020 and may take as long as six months to complete.  For the duration of the project, a portion of Cheyenne Drive west of the gate will be closed to the public due to the safety issues surrounding the operation of heavy equipment and large trucks.  No hiking, biking, horseback riding or motorized vehicles will be allowed in the work zone.  We ask that you respect this and stay out of the area while this very critical wildfire mitigation project is under way.  The access padlock on the gate will not be available for entry during the project.
All portions of Upper Cheyenne Drive and other associated county roadways not within the project work area, will remain open to the public via other entry points outside of the project work area.  Motorized vehicle access is not allowed through any of the alternate entry points to the Upper Cheyenne area due to land ownership restrictions at those entry locations.  No trespassing across private lands to access the area is allowed unless you have permission from the land owner.
The following are highlights of the project:
Costs are covered by the grant and PPMD funds at no cost to the landowners.
The project will be administered by PPMD's project forester, in cooperation with CSFS foresters.
Healthy trees that survived the epidemic will be retained in the treatment area.
The dead trees have little or no economic value and will require paying a contractor to remove them.
Hazardous fuels such as ladder fuels and overly dense stands of trees and Gambel oak will be treated.
Permission to enter private properties to perform the wildfire mitigation work has been obtained from 90 lot owners in the affected area and applies only to the contracted wildfire mitigation company and their subcontractors and employees, Colorado State Forest Service personnel and the Perry Park Metropolitan District Board of Directors and their contracted consulting forester.
Periodic updates will be posted on the Metro District's website at www.perrypark.org. You can also attend a PPMD board meeting for updates.  Meeting notices are posted on the Metro District web site along with dates, times and directions for meeting attendance.